New School Mural
Posted on: November 1, 2023
John Stanford International Gets New Mural 
With the help of family and staff racial equity committees and other staff members, John Stanford International is celebrating Black excellence, inclusion and intersectionality with the installation of a new mural.
After almost three years in the making, the "I AM EVERYTHING" mural was unveiled to the John Stanford International school community on Nov. 1. Willie McIntyre, a Franklin High School alumnus, painted the mural.
Principal Sarah Jones said the project and mural are at the core of their work at the school.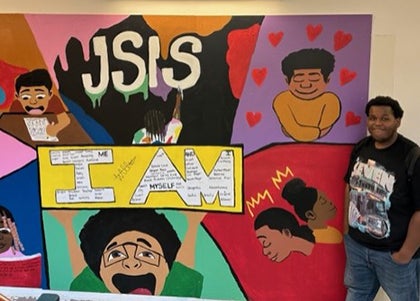 "We have an intentional focus on integrating racial equity and ethnic studies into all classrooms," she said. "We are utilizing the ethnic studies themes, one of which is identity, and the idea of belonging. One way we did this was to use the colors of the Pride flag in the background and to use Spanish, Japanese and Lushootseed (the local Native language)."
Principal Jones expressed her pleasure with how the mural turned out. 
"I am so proud of … all the work our teachers are doing in the classroom, and the support and collaboration our families share with us to further our goals."