About
John Stanford International School School (JSIS)
John Stanford International School is an award-winning Seattle public elementary school (K-5) in the Wallingford neighborhood. We offer a dual-language immersion program to all students.
Spanish (2000) The first Spanish immersion class entered the JSIS program as first graders and graduated in 2005.
Japanese (2001) The first Japanese immersion class graduated in 2007.
Why Spanish and Japanese? These languages were chosen based on a survey of 5,000 parents and 1,200 business leaders.
We're located just west of the University of Washington in the renovated Latona School building. The building features modern classrooms, high-speed Internet connections, a library with books in many languages and interior design elements reflecting a world culture.
Our Mission is Immersion Education
Children learn a foreign language more adeptly if they are "immersed" in that language. In the immersion classroom, teachers speak only in Japanese or Spanish, supporting the acquisition of the immersion language through the content of math, science and/or social studies.
Starting on day one of their kindergarten year, EVERY student spends half of the day learning entirely in one of our immersion languages – Spanish or Japanese. For example, a child may learn social studies and science in Spanish in the morning, and math and language arts in English in the afternoon. Learn more about the Dual Language Immersion (DLI) pathways.
イマージョン言語
幼稚園が始まった初日から、全ての生徒は半日イマージョン言語で過ごします。-スペイン語、日本語。イマージョンクラスでは先生は、日本語又はスペイン語だけを話し、算数、理科、社会を教えます。
Lenguaje de Inmersión
Empezando desde el primer día en kindergarten, CADA estudiante pasa la mitad del día en nuestro lenguaje de inmersión – Español ó Japonés. En los salones de inmersión, los maestros hablan solamente en Japonés ó Español apoyando la adquisición del lenguaje de inmersión por medio de la instrucción de matemáticas, ciencia y /o estudios sociales.
Our Vision
To create a culturally diverse community of life-long learners who demonstrate advanced skills in communication, international language and technology — and whose performance exemplifies the highest academic standards.
Visión
Para crear una comunidad culturalmente diversa de estudiantes para toda la vida demostrando habilidades avanzadas en comunicación, idioma internacional, y tecnología y quienes son un ejemplo de rendimiento superior académico.
ヴィジョン
高度なコミュニケーション 世界の言語 テクノロジーのスキルと 素晴らしい教養 多様な文化のコミュニティーでの生涯教育
John Stanford's Vision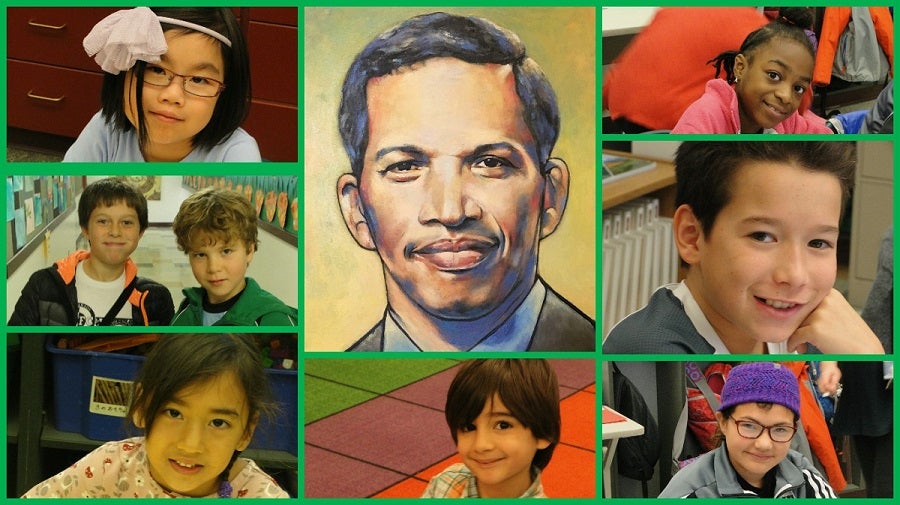 Superintendent John Stanford, who served as Seattle Public Schools' inspirational leader from 1995-1998, had a dream. He envisioned a world-class public school system with an international school focusing on language and culture to prepare students for success in a global society. Stanford saw a place where all children could learn more than one language and where students celebrated the diversity of world cultures.
Our commitment to student learning that will lead to active global citizenship:
Academic rigor
Social emotional aptitude
Cultural competency
Proficiency in an immersion language
Awareness of global issues and the passion to act
Cultivating a JOY of learning
ジョン スタンフォードの理想
1995~1998年にかけて、シアトル パブリック スクールの最高責任者だった ジョン スタンフォードには夢がありました 。彼はパブリック スクールに、生徒がグローバルな社会で成功できるような言語、文化に重点をおいたインターナショナル スクール システムを作ることを心に描いていました。スタンフォードはすべての子供たちが1つよりももっと多くの言語を学び、多様な文化を共有できる場を作りたいと思っていました。:
高度な教養
社会への適性
文化の協調
イマージョン言語の習得
世界情勢を認識し行動
学ぶことの喜びの育成
Visión de John Stanford
El Superintendente John Stanford, que dio servicio como líder inspiracional en las Escuelas Públicas de Seattle de 1995 – 1998, tuvo un sueño. El tuvo la visión de un sistema público de primera clase a nivel mundial centrandose en lenguaje y cultura para preparar a estudiantes para el éxito en una sociedad global. Stanford vio un lugar donde todos los niños pueden aprender más de un lenguaje y donde estudiantes celebraron la diversidad de las culturas del mundo.
Nuestro compromiso con el aprendizaje del estudiante que llevara hacia la cuidadania activa a nivel global:
Rigor Académico
Actitud Social y emocional
Rendimiento cultural
Rendimiento en un lenguaje de inmersión
Conocimiento de temas globales y pasión para obrar
Cultivando una alegría por el aprendizaje
Balanced Literacy
We use a research-based approach to teaching literacy which is aligned with Common Core State Standards. It includes Readers' and Writers' Workshop, word study, interactive read-a-loud, and shared reading.
英語
州の指定したコモン コアに沿ってリサーチをベースとして指導をします。読み、書き、単語、本読み、読解を含みます。
Alfabetización Balanceada
Nosotros usamos investigaciones basadas en el enfoque de la enseñanza de alfabetización que está alineado con los estándares estatales comunes. Eso incluye talleres de Lectura y Escritura, estudio de letras, interactivos de leer en voz alta, y el compartir la lectura.
Project-Based Learning and Academics
On both the English and immersion sides, teachers incorporate project-based learning to foster independence, problem-solving and group work.
プロジェクト ベースの指導
英語、言語の教師はプロジェクトを通して連携し、自主性、問題解決、グループでの作業を育成します。
Projecto Basado en el Aprendizaje
En ambos lados de Inglés y inmersión , los maestros incorporan projectos basados en el aprender a desarrollar la independencia, resolver problemas y trabajar en grupo.
Mathematics
John Stanford International School teaches to the Common Core and State Standards using Math in Focus and other supplemental resources. Mathematics is primarily taught in the immersion language.
算数
ジョン スタンフォード インターナショナル スクールは州の指定したコモン コア、 Math in Focus 及び他のリソースを使っています。算数は主にイマージョン言語のクラスで教えています。
Matemáticas
La Escuela Internacional John Stanford enseña estándares estatales comunes usando como enfoque Matemática y otros recursos suplementarios. Matemática se enseña primordialmente en el lenguaje de inmersión.
Science
Every year students use inquiry-based learning to explore science, using the state standards as a guide. This culminates in fifth grade as students prepare science fair projects in conjunction with a mentor.*
理科
毎年生徒は、州の基準を元に理科を学びます。5年生は最後にサイエンス フェアーのプロジェクトを指導者と共に準備をします。
Ciencia
Cada año los estudiantes utilizan un aprendizaje basado en cuestionamiento para explorar la ciencia, usando los estándares estatales como guía. Esto culmina en quinto grado al mismo tiempo que estudiantes preparan projectos científicos para la feria de ciencia en conjunción con un mentor.*
Social Studies / Global Perspective
Because we are an International School, teachers work hard to embed a global perspective into the curriculum. Teachers also infuse social-emotional curriculum and lessons. Students learn 21st Century Skills – communication and collaboration, creative and critical thinking, and growth mindset and perseverance.*
*Science and Social Studies alternate between being taught in English and Spanish/Japanese, depending on grade level.
社会 / グローバルな視点
インターナショナル スクールなので先生方はグローバルな視点を授業に取り入れてます。また先生方は社会的な問題も授業に取り入れています。生徒は21世紀のスキルを学びます。-コミュニケーション、協力、創造、思考、考察、考え方、忍耐*
* 理科と社会は学年により、英語とスペイン語/日本語のクラスで交互に行われます。
Estudios Sociales / Perspectiva Global
Debido a que somos una Escuela Internacional, los maestros trabajan duro para implantar una perspectiva global dentro del currículo. Los maestros también incorporan el currículo social , emocional y lecciones. Los estudiantes aprenden habilidades del XXI – comunicación y colaboración, pensamiento creativo y critico y crecimiento mental y perseverante.
*Ciencia y Estudios Sociales se alternan con la enseñanza en Inglés / Español dependiendo en el nivel de grado.
Enrichment
Students at John Stanford receive PE and Music twice per week, and Library once per week. We also have an engaged and active parent community who funds visual and performing arts throughout the year for every classroom.
エンリッチメント
ジョン スタンフォードの生徒は、体育と音楽を週に2回、図書は週に1回受けます。又、ご父兄の協力によりヴィジュアル アート、舞台など全てのクラスで1年を通して行われます。
Enriquecimiento
Los estudiantes de John Stanford reciben Educación física y Música dos veces por semana, y biblioteca una vez por semana. También nosotros tenemos una comunidad de padres envueltos y activos quienes financian para las artes visuales y de escenario durante todo el año para cada salón.
Why Our Program Works
We offer:
Highly skilled and devoted teachers, including classroom teachers who loop with the students for two years; additional teachers in music, physical education, library and more; and specialists (ESL, Basic Skills, Special Education) who serve children in and out of the classroom.
Commitment to international education and immersion instruction. Immersion teachers are usually native speakers of immersion languages. In addition, every immersion classroom is staffed by a certificated Instructional Assistant (IA), lowering the student-teacher ratio to 14:1. IA salaries are paid for through grants and fund-raising.
A supportive business and higher education community that values international education. Collaboration with outside groups–such as the University of Washington, Sister City Council, Trade Development Alliance and the Mexican Council–open us to a world of additional enrichment opportunities.
A highly involved parent community. JSIS families volunteer in the classroom, serve on the Building Leadership Team (site council) and work with the Parent-Teacher Association (PTA) to support classroom education, sponsor social events and extracurricular activities, and more.